In positive psychology, we often evoke gratitude, this feeling that helps us to see life in pink and to adopt a positive attitude. But how do we concretely do to have gratitude? Here are some tips to sprinkle your life with simple little pleasures.
Gratitude is above all a state of mind: we expresses its gratitude for everything around us. We can be grateful after a beautiful day with the family, admiring a beautiful moonlight or, more simply, smelling the particular smell of the earth after the rain.
More intimately, gratitude is also an appointment with oneself, a little moment of well-being that we allow ourselves during the day. Many studies have shown that having gratitude makes you happier. To have gratitude is above all a discipline of life.
Each day, you pick an exercise to do to focus on the positive. After 21 days, a natural cycle of changing habits, you then become more inclined to see the positive things around you and therefore you better appreciate what surrounds you… We tell you, practice gratitude at the everyday, it's only positive!
1. The Letter of Gratitude
The letter of gratitude is a very simple and oh so precious exercise. The principle is to take the time, one evening or a weekend, to write a letter of gratitude for life. There is no imposed length or format, the only obligation is to be sincere with your feelings.
You can have gratitude and thank life for giving you beautiful children, or being well surrounded by faithful friends, etc. It's a moment of confidence and honesty with yourself, enjoy!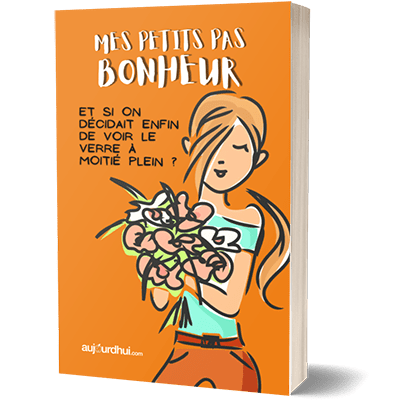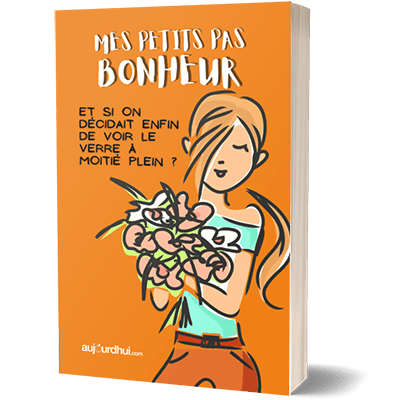 To develop and maintain your sense of well-being, discover our mini-program 10 Small Happiness Steps : an Email every morning for 10 days!
Click here to get it for free
When the letter is finished, you will read it aloud and then put it away carefully. You will re-read it whenever you go through a difficult time in the future. If you put your heart into it, rest assured that it will give you a boost every time!
2. The table of small pleasures
Whether it is virtual (on pinterest) or, in cork, hung on a wall in your apartment, the table of your little pleasures is a brilliant way to have gratitude in collecting images of your daily pleasures.
Photos, drawings, post-its, postcards, magazine extracts, etc. You'll be displaying them, gazing at them, and feeling extremely positive every time you walk past them.
It is an exercise that can get very creative if you give free rein to your imagination and try to make it a work of art…
3. The art of saying thank you
I have no doubt that you know how to say thank you to the merchants who give you change when you go shopping or when a stranger holds the door for you to let you through… But this "thank you" is automatic, it is part of the social consensus, know how to live in society.
But when was the last time you said "thank you" with your heart? Really thinking about what you were saying? This word is the epitome of gratitude. To have gratitude, you have to practice saying it with sincerity.
Whenever you have the opportunity to say "thank you," try to mean it sincerely by focusing on gratitude and looking the person you're talking to straight in the eye. Do it also for compliments that may seem futile to you, such as: " This shirt suits you well!".
4. The Gratitude Journal
The gratitude journal is the most effective tool to express gratitude! The choice of notebook is very important since it will accompany you on a daily basis: you absolutely must want to write in it… And every night, you will write down the strong things you have seen and the pleasant experiences you have had during the day.
A giggle with your best friend, a beautiful blue sky, the smile of a child you met, your favorite song on the radio, a fresh vegetable juice that you enjoyed (it could be a square of chocolate !): we experience daily little moments of grace without taking the time to savor them!
It's not easy at first, but you'll see, with practice, you'll get used to it. After a few days, you will even be able to write down these little everyday pleasures in your memory to conscientiously write them down in your gratitude journal at night. It will also allow you to have gratitude for these magical situations. as you live them…
5. Have gratitude for nature
It's not always easy depending on where you live, but try if you can, to be alone in nature. Whether it is the forest, the sea, the mountains, the countryside… Try to have gratitude for nature getting closer earth and life. Then remember to touch, listen, smell and observe everything that is around you. Each of your senses matters and allows you to live an outing in nature as a unique personal experience.
If you live in town, you can grow plants on your balcony or take care of indoor plants. Take the time to pamper them, to water them, to touch their soil to have contact with the energy of the plant.
If you are in the forest, lean against a tree, hugging it or putting your hand on its bark. This direct contact with the plant world allows you to be more serene: it can reduce your level of stress and anxiety.
Read also:
Positive psychology: get closer to happiness…
Seeing the glass half full, can you learn that?
10 tips from science to be happy
Mindfulness meditation: 4 tips for success
6 keys to exercising your gratitude
6. Body awareness
Being grateful for your body is another meaningful exercise. To do this, you can give him your full attention for 10 minutes, every evening. Become aware of your body, starting with your right foot and going up, limb by limb, to the top of your skull. Accept the sensations, pleasant or not, by concentrating individually on each part of your body.
Having gratitude on a daily basis is not a very complex mission. It's all about practice, will and discipline! These small exercises can do you a world of good and allow you to see life in an always positive way.